Top Shea Butter Benefits For Your Skin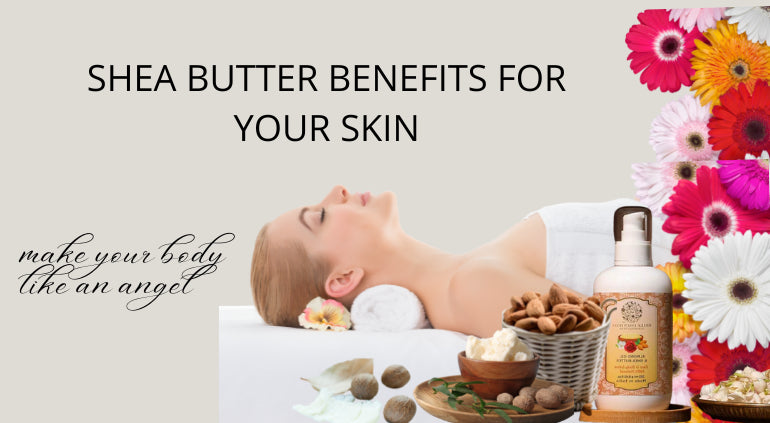 You have likely heard of shea butter as an ingredient in several beauty products, such as shea butter body lotion. But are you fully aware of this beauty ingredient and what wonders it can do for your skin? Probably not! Shea butter has been used for centuries in several parts of the world (predominantly in Africa), yet we are unfamiliar with all the properties and qualities of this magical ingredient. Most of us even don't know what it is and where it comes from! It is an ivory-colored fat procured from the seeds of an African shea tree. 
To unfold the mystery of shea butter and how it can benefit our skin, we have come up with this blog. So, without much ado, let's dive into the incredible benefits of shea butter. 
Learn the Skin Benefits of Shea Butter
Moisturizes & Smoothens Skin
Shea butter is extremely popular for its moisturizing and repairing properties. Thanks to its highly emollient property, which makes it an excellent nourishing moisturizer. Shea butter comes with skin conditioning agents and other nutrients, including vitamins A and E. Moreover, it is non-greasy, fast-absorbing, and highly hydrating. 
It also contains Oleic acids (Omega 9), which help maintain the skin's softness and radiance. Shea Butter works by forming a protective layer over the skin that keeps it supple and moisturized. From reversing moisture loss to repairing dry, cracked hands and even reducing stretch marks, you can use this versatile ingredient from head to toe! 
Gentle on Sensitive Skin
People with sensitive skin are more conscious when it comes to choosing their beauty products. However, sometimes they end up with products that, instead of soothing the skin, cause soreness, itchiness, and even harsh rashes. Shea butter is one such ingredient that suits all skin types, including sensitive skin. 
With a low melting point, it easily absorbs into the skin layers to moisturize and smoothen the skin without clogging pores. It is truly a magical ingredient to cure dry and dehydrated skin. If you have sensitive skin, substitute your winter creams and lotions with shea butter and almond body lotion. 
Reduces Inflammation & Skin Rashes
Skin inflammation conditions like rosacea and eczema get easily irritated due to artificial ingredients found in several skincare products. Thankfully, shea butter provides the best results in preventing and reducing the effects of eczema as well as other skin problems. 
Shea butter is rich in vitamins and antioxidants, which help to relieve those dealing with skin inflammation. Because of the nourishing and healing properties of this natural ingredient, you can use it for rashes, dry patches, abrasions, and sunburn. It gives quick relief from itchiness and irritation. 
Provides UV Protection
It will be surprising for you to know that shea butter also acts as a sunscreen. Yes, you heard it right! Shea butter offers sun protection against harmful UV rays. Many dermatologists believe that shea butter has natural SPF that helps with sunburns and renews tanned skin. 
However, note that it should not replace your sunscreen. But it can work great with your sunscreen. Putting a shea butter body lotion before using the sunscreen can be really effective in creating a protective shield that wards off the UV rays. 
Contains Anti-Ageing Properties
If you are looking for a natural ingredient that reduces the unwanted signs of aging while also keeping the skin well-moisturized, then shea butter is your go-to solution! Shea butter promotes collagen products and smooths wrinkles while restoring moisture in dry areas like under your eyes. 
It contains Cinnamic acid esters, which facilitate cell regeneration and rejuvenates your skin. Furthermore, it helps to reduce the appearance of fine lines and blemishes. The vitamins found in shea butter contribute to improving your skin texture, giving you a smooth and youthful appearance.  
Takeaway -
Incorporate The Goodness of Shea Butter Into Your Skincare!
So, these are some amazing benefits of shea butter that make it an excellent skincare ingredient. If you wish to reap all the above-mentioned benefits of shea butter, then incorporate it into your daily skincare routine. 
You can easily find skincare products that contain shea butter as an ingredient. One such product is Almond Oil & Shea Butter Face & Body Lotion, which offers the benefits of not only shea butter but also almonds and aloe vera. Buy this skincare product from Ryllz Essentials and include it in your skincare routine to get visible results within a few days! Visit Ryllz Essentials today to explore more such skincare products made of natural ingredients. 
Collection 2019
Sale 70% Off
Title for image